The Crumbl Cookies Concept - there's not much about it that one wouldn't like. The rapidly expanding brand seems to have everything people love. Cookies, Creativity, and "Coming Soon" on store fronts all over the country. They trend strongly on social media too. If you've had the pleasure of experiencing one in your neighborhood, the cookies are simply amazing and the lines are out the door.
If there's one thing we know, it's that people flock to find interesting ways to consume sugar. This means Crumbl has an advantage for becoming a profitable franchise. The concept itself also brings appeal - choose between exclusive rotating flavors that only last till the end of the week? It's an immediate yes for the average sweet's lover.
And if that wasn't enough, the business model has proven to be an opportunity that makes money back on an owner's investment in the first few years.
Getting in with Crumbl Cookies
All this sounds great, right? But with most good things, there is a drawback when considering a Crumbl franchise.
In fact, the Crumbl Cookies franchise concept is almost sold out across the country. The raging popularity of the brand and the social media attention in the last few years means means the interest in owning a franchise is highly competitive - and selective. If you look at the current availability for the United States, 70% of the available franchise territories has a current and operating owner. And the number is likely even higher than that. What you don't see are all the future owners who have purchased a license and just have yet opened up their location.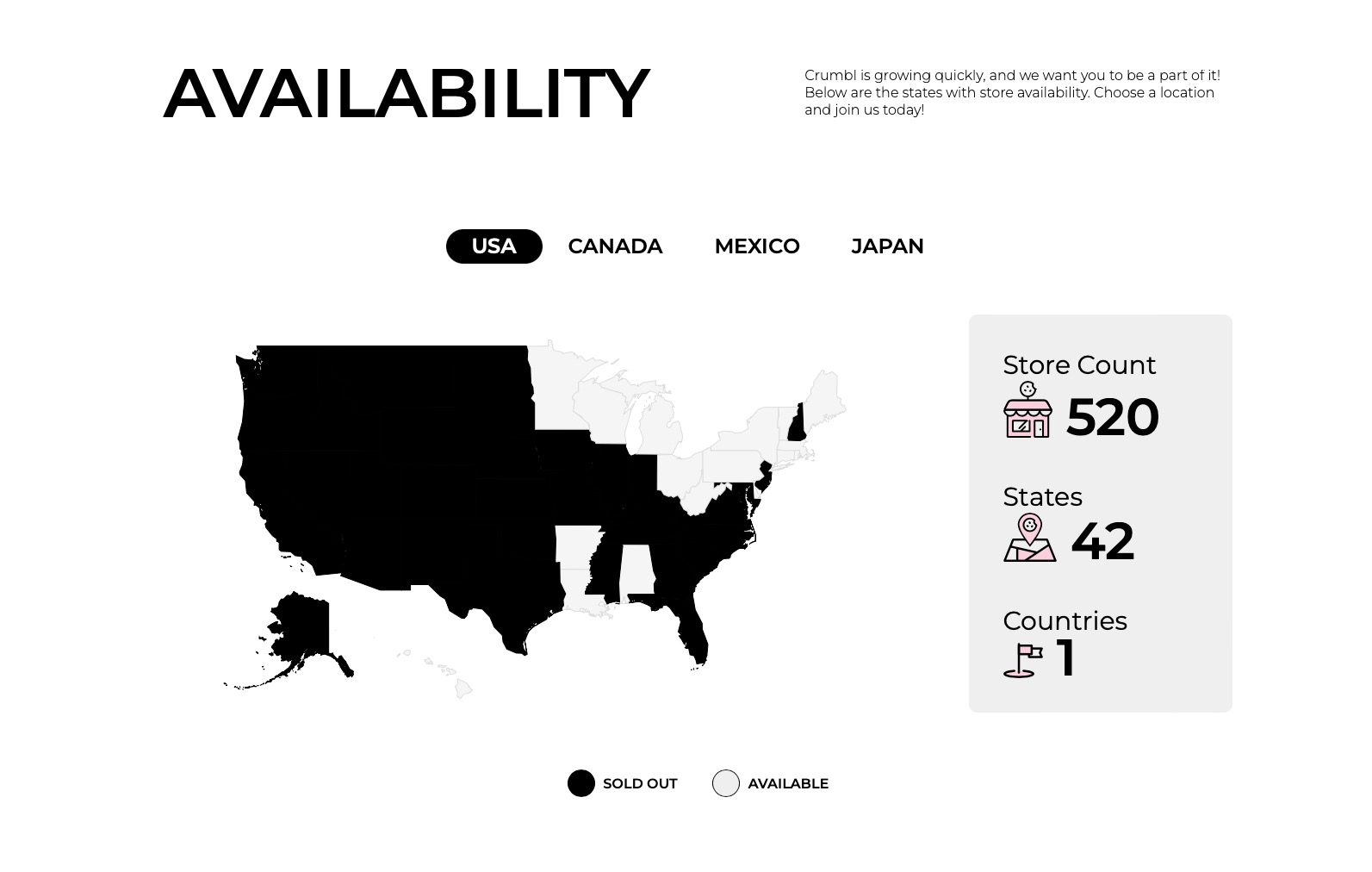 With "Coming Soon" on store fronts everywhere, you'll likely also see "Sold Out" for the Crumbl Cookies franchise concept in the near future.
So, what are alternative franchise options?
Duck Donuts: Bringing warm, delicious, and made-to-order donuts to your community.
Society Wine Bar: Expanding the culture of wine to your society, your community and your city. Wine is cultural, it's hip, it's trendy, it's fun, and it pairs well with food. The concept offers over 200 wines by the glass.
Cinnaholic: Featured on ABC's Shark Tank, is an innovative, socially conscious, and industry disrupting bakery concept dedicated to serving 100% plant-based cinnamon rolls with over 50 gourmet frostings and toppings!
Voodoo Brewing Company: A brew pub that is here to bring bold, innovative world-class beers and eclectic, locally-curated pub food menu to fans everywhere. It unique business model is focused on delivering high margins.
Peterbrook Chocolatier: Delivering the art of fine European chocolate making into a truly American experience by combining the very best ingredients and old-world techniques with a variety of all-American treats - cookies, pretzels, popcorn and more.
Contact us for more information on these and other franchise concepts.
Source: Franchise Brokers Association